To meet the full range of their clients' needs, the lawyers of the VIGO Law Office have from the outset partnered with a network of national and international professionals :
– Lawyers,
– University professors,
– Judicial experts,
– Insurance experts,
– Crisis communication agencies.

Cairn Legal
Cairn Legal handles key business law issues, both in litigation proceedings and by providing legal advice and assistance.
Cairn Legal is able to handle matters in French, Dutch, English and German.
Chaussée de la Hulpe, 177/12
1170 – Bruxelles
BELGIQUE

Gangate & Associés
The lawyers of Gangate & Associés can assist you with any business-related legal issues by offering the services of a lawyer with expertise particularly suited to each matter and who is thoroughly familiar with the local economic context.
164, rue Monthyon
97400 – SAINT-DENIS DE LA RÉUNION

Mondini Rusconi studio legale

Mondini Rusconi, which is based primarily in Rome and Milan, offers a full range of legal services and is recognised for its legal expertise, the great care it devotes to the matters it handles and its knowledge of the European and North American business environment.
VIA VISCONTI DI MODRONE, 2
20122 – MILANO
ITALIA

Rivero & Gustafson
Rivero & Gustafson specialises in legal practice and commercial law. The firm practices in the traditional legal fields and has a sector-based approach to business based on its experience and day-to-day commitment to its clients.
AVENIDA DE BURGOS, 17 – 3°
28036 – MADRID
ESPAÑA
François SAINT-PIERRE
François Saint-Pierre has been practising law since 1985 and holds a specialisation in criminal law.
He practices criminal defence in France, the overseas departments and territories and various foreign countries, in the following fields:
3 PLACE DES CÉLESTINS
69002 – LYON
FRANCE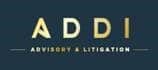 ADDI ADVISORY & LITIGATION
ADDI AVISORY & LITIGATION is a law firm composed of a proactive, rigorous, multidisciplinary team of several associates, who have worked in the largest law firms in Morocco as well as abroad.
IMMEUBLE IMCAMA
6, RUE ALLAL EL FASSI
CASABLANCA-MAROC